Loft Conversions Inverness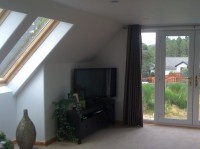 Are you wanting to make the use of the space you already own?
Convert your loft with the help of Swift Home Improvements Inverness. We can consult with you from the very start and come up with the solution that'll offer you more living space. Whether you are looking to add a studio, office, new lounge or even a couple of extra bedrooms complete with en-suites, we can help.
Your loft space is already paid for so it's always going to be cheaper than a brand new extension or it may be that you have no extra space on your property.
Swift home improvements will be your first and only call for your loft conversion.
Building your old house into a bigger and better home could not be simpler getting more floor space adding value to your existing home.
You already have the space in your loft you just can't use it. we can sort this building your existing space in to a room you will be proud of for years to come this is one of the best investments you can spend your money on to date.
Investing your money in your house and not in a bank and get a real return in the future.
Swift Home Improvement builders will do all your needs in building your new rooms.
Building warrant, planning, doing all your Pluming, Electrics, joinery, and building works.
taking all the worry from you and leaving you with your dream home